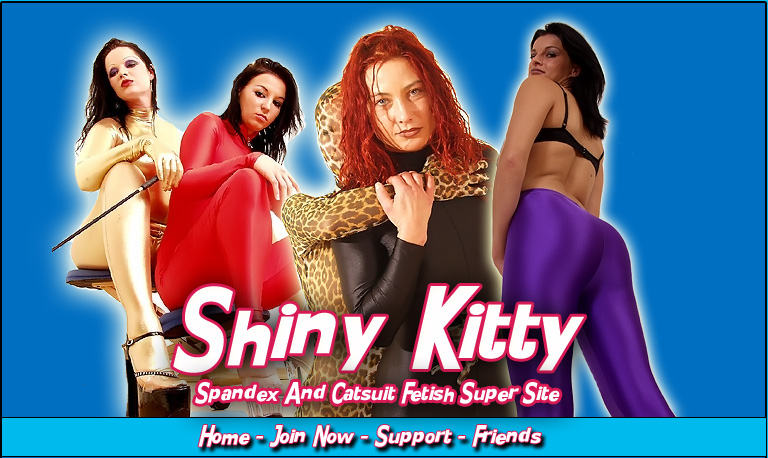 HOT SPANDEX WOMEN IN TIGHT CLOTHES
---
Welcome to ShinyKitty.com website!

We specialize in shiny and spandex fetish.

The site contains pictures and videos of women in tight shiny spandex pants, leggings, catsuits, tights, bodysuit, zentai.
Girls in blue, white purple, silver, black, red and gold lycra spandex clothes you will find on no other website.

Our content is shown only here, unique and exclusive.
ShinyKitty is updated weekly with spandex video or picture content. Our girls know what you want! And if not, you can request! .........Enjoy, Get your login account here
---
---

Shiny Catsuit Fetish Girls

---

spandex girl

shiny lady

Zentai

spandex tease

spandex leggings girl

spandex and balloons

139 High Res Pics

wet spandex pussy

165 High Res Pics

6:15 min spandex candid

catsuit girls

spandex leggings

Angela white and red spandex

Angela white spandex

Zentai Slut

Zentai

spandex girl

tight clothes babe

full body spandex

tight black lycra

black lycra

hot leggings

catsuit lady

tight lycra

lycra slave torture

sexy catsuit babe

shiny beauty

lashing lady

balloon ride

spandex and jeans

topless posing

orange catsuit

liquid black

Kelly tight video

spandex catsuit

tight spandex catsuit

Jaqueline spandex domina

Kelly in orange catsuit

sexy tight leggings

Kelly riding video

---

---

skin tight lycra leggings

Kelly spandex pops

black spandex leggings

black spandex leggings

Kelly in brown leggings

Kelly in lycra leggings

black catsuit and popping

6 minutes catsuit tease

sexy green lycra

lycra fetish model

Masha in black lycra catsuit

leopard catsuit

hot ass in blue shorts

sexy butt in capri pants

shiny silver catsuit

tight white catsuit

hot purple leggings

babe black spandex

sexy ass in blue lycra

skin tight leggings

hottie in black catsuit

babe in yummy red lycra

Zentai babe

hot white lycra shorts

---

---

Shiny Kitties like to show in skin tight shiny spandex catsuits and get bondaged. The fast growing shiny and spandex fetish members areas gives you just the best. We display content no other site have.

---

tight black catsuit

sexy Kitties in catsuits

the lycra secretary

sexy hot pants

hot body in lycra tights

teasing in red and gold

sexy white catsuit

spandex bondage

Kitty love

hot teasing catgirl

woman in nylons

yummy and hot

---

---

We know how to highlight the fetish. Best light makes that all the spandex clothes gives a lot of shine.
You will not be bored if you see our models in bonds and high heels.

---

tight blue shiny

shiny lady in skirt

red and gold Kitties

yummy catwomen

riding in lycra

lycra lovers

spandex slave

spandex blowjobs

shiny gold

black catsuit

spandex catsuit

shiny spandex catsuit

slave ball lashing

blue leotard and leggings

skin tighth bondage

silver spandex catsuit

lycra slave and ball torture

female zentai in spandex

in shiny capris

spandex domina

catsuit fetish

ripped spandex

catsuit girl

Shinykitty Tessa

Kelly in spandex is full HDV site, Shiny Kitty shows just HQ videos, all of Kelly`s
full length HDV video in 1440x1080 25p 4700Kb/s and "all" of her ultra high resolution
sets on her new site. As bonus we offer time limited only! for all of our
Shiny Kitty members full access to Kelly`s members area!